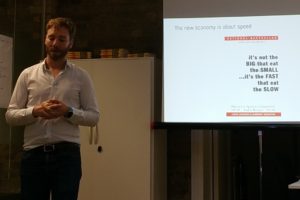 It was a fabulous week for me, with loads of interesting contributions across the industry. We had an excellent array of legal firms vying for ownership of 'diversity' and 'fintech'. A summit or two that brought in the heavy weights for some politically correct panels. Lots of thinly veiled sales pitches. The 'coming of age' of the accelerator industry, and some quirky independents on the fringe, who gave real food for thought. What seemed most obvious from their absence were the actual developers themselves, with only the odd CTO wheeled in, for a key note or fireside.
However there was one specific startup that I came across during the whole week, that managed to embody a lot of what the 'big takeouts' were for me, from the week.
Key points when going from start up to scale up with a corporate partner:
Custom Matchmaking.
The opportunity to meet and interact with potential corporates, is the driving force behind most enrolment in accelerators and other open innovation programs.
Being paired to the right corp. partner- and being uniquely suited to answer their specific needs, ensures much higher levels of success.
Running paid pilots.
Paid work builds credibility – it is what keeps the wolves from the door for a start up, and allows low risk testing for the corporate partner.
Enabling other start-ups.
Building a network not a hierarchy, focussing on a cluster – critical for growth hacking sector.
With diversity.
And getting the most out of steam – ensuring better market fit.
And whilst all the Q&A's were taking place, and business cards were being dished out like party favours, my favourite startup named Platform 103, were quietly getting on in the background, keeping us all networking and talking. You see, they were the caterers.
Platform 103 enables small caterers and chefs to be procured by the big corporates and their product is delicious. Unlike the chocolate biscuits and crisps that other events went with, theirs worked wonders. So thank you platform 103 for helping to get me through an incredible week. (Other than a deep desire for more of their scrummy offerings, I have no affiliation to them.)
Warm regards
Victoria
(Photograph Victoria Milne featuring Fabrice Bernhard of Theodo)