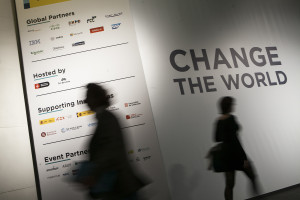 What do London, Glasgow and Peterborough have in common? Not so much, you might think: London and Glasgow are massive urban powerhouses, vastly influential in their sway. And then there's Peterborough.
But anyone who has been following activity in the Smart City world will know that the three British cities have one important connection: they've all been in the news over recent months for their Smart City plans.
Not only that, but proud East Anglians will be pleased to know that it is Peterborough that has been picking up the international accolades of late, being named named Smart City of 2015 at the Smart City Expo World Congress in Barcelona at the end of November, over the likes of Moscow, Dubai and Buenos Aires.
Peterborough's win was, according to judges, thanks to three particular factors. It is one of five  "urban labs" in which UK Future City initiatives are being developed (alongside Belfast, Bristol, London and Milton Keynes); it has a long-standing commitment to being the UK's environmental capital; and Peterborough was also the first city to apply "circular economy strategies" in planning its urban transformation.
"We tend to do things slightly different in Peterborough," Cécile Faraud, circular economy officer at Peterborough City Council told Cities Today. "We are actually implementing the 'circular city' which is a new and different concept. When you look at a circular economy you have products, companies, policies and consumers. All of them actually sit in cities, so we want to integrate that and look at it all rather than looking at silos."
Peterborough may have got the nod from the Smart City Expo but it was Glasgow which triumphed overall in Innovate UK's recent Future City initiative (subtitled "investing in better places to live, work and play").
The Future City project saw 30 city councils being awarded £50,000 from Innovate UK to come up with a proposal for a large-scale city demonstrator, showing how they could integrate their transport, communications and other infrastructure to improve the local economy, increase quality of life and reduce impact on the environment.
Glasgow's winning proposal was for a City Management System, "integrating urban services and infrastructures (transport, water, energy), using multiple data sources, enabling the city to be understood in new ways and making integrated data available through a City Observatory".
The Scottish city has now secured an extra £24m from Innovate UK, which will be used to demonstrate how technology can make life in the city "smarter, safer and more sustainable", focusing on four key areas: active travel (cycling and walking), energy, social transport and public safety.
Specific plans include a data hub where information about life in Glasgow, from traffic flows to health stats, will be available to businesses and the general public; an operations centre bringing together CCTV, traffic management and Police Scotland to improve security and traffic flow; the use of data to make the city more cyclist and pedestrian friendly; smart meters and grids to give a clearer picture of energy usage; intelligent street lighting; and demand responsive technology to improve the efficiency of the council's social transport fleet.
Bristol, London and Peterborough also won £3m each from Innovate UK to progress their work, while three-quarters of the initial 30 councils claimed to have taken forward some aspects of their bids by the end of 2013.
Striking out on its own, London also recently launched its Smarty City challenge backed by the Mayor's Office, calling for developers to come up with apps that "address some of the biggest problems facing cities today". (The closing date is December 15, should you be interested, and you can access up to £750,000 in investment.)
Speaking to the Telegraph, London's Deputy Mayor for Environment and Energy Matthew Pencharz said that the competition "will encourage our tech whizz-kids to use their creative nous and come forward with the solutions to help us address these challenges and make London an even better city to live in".
"London is at the very forefront of smart technology and it is vital that we embrace innovation as we work to deliver the new housing, transport and social infrastructure the city needs," he added.
He has a point: London is, in fact, regularly voted one of the world's leading Smart Cities.  Business services provider BSI Group, for example, this year named London as the second Smart City in Europe (behind Barcelona), taking into account the findings of various Smart City rankings, with praise for London's transport system, use of congestion tax and Wi-Fi connectivity.
That, of course, is good news for the UK's record of Smart City innovation. But – in a strange way – Peterborough's win is even more telling.
London, after all, is the kind of city you would expect to be strong on technology. You could argue that it should be at the forefront of the Smart City push, alongside New York, Paris and Tokyo.
But Peterborough – a modest East Anglian city of 190,000 inhabitants with none of London's vast financial resources – is a different matter entirely. Its success, then, in winning World Smart City shows what smaller cities can do in this sphere, as Faraud explained to Cities Today.
"[The award is] a great recognition of our work but actually most importantly it shows that a medium-sized city that has the ambition and the guts can be visible and awarded globally," she said. "It is a great signal to other similar sized cities worldwide, we have a voice, we are doing great things."
Indeed, for the UK as a whole Peterborough's success is hugely positive. It's all very well having the vast, prosperous capital as a leading Smart City. But adding the Smart City success of Glasgow (population 1.75m) and Peterborough into the equation demonstrates that the UK really is getting to grips with the idea of different Smart City models for different kinds of cities.