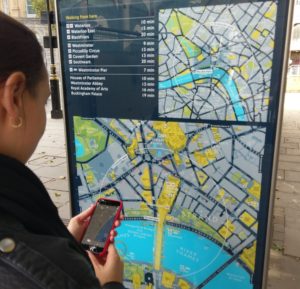 Tenshi are excited to kick off a new Design Thinking project with
Trueform
to explore how to better connect communities and citizens on the go, to accessible digital information and content, through human-centric design.
Trueform's Signage and Wayfinding project will put citizens and urban communities at the heart of the design process for the first time. This radical shift in approach will lead to insights about what content and information we need when we are out and about, in order to lead healthier, informed, more fulfilled lives, whilst on the move.
The Tenshi team are looking forward to working with Trueform on this project, to work with the team to learn and apply human-centered Design Thinking tools and methods to support Trueform's mission of creating enhanced vibrant public spaces and urban centres for the UK and beyond.
Over the next few months, you can keep up to date with the project through news and updates we'll be posting here.
This project is funded with thanks to the UK's innovation agency, Innovate UK.
Interested in how your team can use Design Thinking to develop human-centered innovation? Get in touch with us for a chat innovation@tenshi.co.uk.