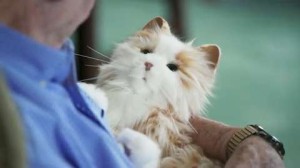 Robotic pets are nothing particularly new. But until now they've generally been rather crude, unimpressive things, designed for children and the otherwise easily impressed.
Joy For All Companion Pets, from toy maker Hasbro, could change all that.  The Joy For All cats range is designed, Hasbro says, "to bring comfort, companionship and fun for your elder loved ones".
And that means Hasbro has had to up the standards somewhat. Companion Pet cats, then, "look, feel and sound like real cats", with "realistic, soft fur". They also have "cat-like movements and sounds" and will respond to petting, hugging and motion "much like the cats you know and love".
Pet your cat's left cheek, for example, and it will nuzzle its head into your hand. Keep petting your cat and it will roll on its back, so you can give it a belly rub. Awwww.
They still look a bit, well, odd, if you ask us. But at least they won't scratch up the furniture.