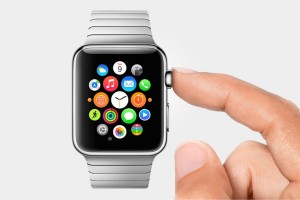 It's hard to overstate the importance of the Apple Watch to the world of wearable tech.
It may not have been the first smartwatch on the market – that, arguably, was IBM's Linux-based WatchPad in 2001- nor is it currently the best selling wearable (a prize that belongs to the FitBit, according to IDC research).
But the Apple Watch is by far the highest-profile item of wearable tech on the shelves today, a product launched by the world's biggest tech company and one that has made a success of two new niche tech businesses over the last two decades in portable music players and tablets.
That means that the Apple Watch is seen as a barometer of the entire wearables industry, its success or otherwise likely to influence whether billions of dollars are pumped into wearables or invested elsewhere. As a result, analysts will be watching very closely indeed to see whether the Apple Watch pops up under many Christmas trees this festive season.
You could argue, in fact, that Christmas 2015 is crunch time for the Apple Watch, a device that, some seven months after its release, still remains something of a mystery, almost defying you to judge whether it has been a success or not.
The greatest unknown is how many units the Apple Watch has sold. Apple itself isn't giving sales figures, with Tim Cook saying instead that sales "topped our internal expectations", adding that "demand outstripped reply".
This reluctance to give specific figures has raised suspicions in many quarters that sales of the Watch haven't been as stellar as Apple had expected. Adding to these doubts was the fact that Apple apparently offered $50 off the Apple Watch in certain US stores with the purchase of any iPhone, a very un-Apple like move.
Into this numerical void has stepped the usual role call of analysts with their own takes on how the Apple Watch has sold and continues to sell.
These, as you might imagine, vary wildly: IDC claimed that Apple shipped (not sold) 3.6m Apple Watches in the second quarter of 2015. Fortune, meanwhile, asked a panel of "Wall Street professionals and seasoned amateurs" for their estimates, coming up with sales of 3.95m for Apple's fourth quarter.
At the start of November analyst Canalys claimed that Apple had "shipped nearly 7m smart watches since launch" and was "building momentum going into Q4", while Pacific Crest Securities analyst Andy Hargreaves predicted that demand for the Watch was slowing quickly, with sales for 2015 likely to reach 10.5m, 500,000 less than his initial estimates.
The situation is as clear as mud, then. And you can see why so many people in the wearables world are awaiting nervously for Christmas, when it should become slightly clearer whether the Apple Watch is taking off or not.
Again, predictions as to what will happen over Christmas vary. IBM Watson Trend, which uses natural language processing to measure discussion of purchasing decisions, claims that Apple Watch is the most discussed Christmas present today and has been so since August.
UK department store John Lewis, meanwhile, has predicted that the Apple Watch will be "one of the most sought after gifts this Christmas", after announcing plans to stock the Watch.
Fortune, however, did its own Google Analytics search on the morning of Friday November 27 (Black Friday) and found that interest in the Apple Watch was way below that of the iPhone.
Such mixed messages are perhaps inevitable when trying to make predictions about a new product in the face of Apple's near silence. Maybe the answer, then, to how the Apple Watch is performing lies in looking back rather than gazing forward.
This is precisely what analyst Creative Strategies has done in its latest research into the Apple Watch. Rather than bat about figures, it asked 340 people who have tried and abandoned the device to give their reasons why they ditched the Watch.
This may sound like a very negative approach. But principal analyst Ben Bajarin says the research should be considered alongside earlier findings from his company, which gave a 97% customer satisfaction level for the Apple Watch.
"We believe it is important to tell the whole story with regard to the Apple Watch and smartwatches. Which means, we need to research the bad as well as the good," Bajarin explains (via Techpinions).
"While we did the research to validate amazingly high satisfaction levels with Apple Watch, we also wanted to understand the mindset of the small minority who have a more negative opinion of the Apple Watch. So we decided to seek out and learn from those who had less than positive experiences with the Apple Watch and have stopped using it entirely or significantly less than when they first purchased it."
The company found that almost half of the people it polled gave up on the Apple Watch within two weeks of use. Bajarin says this is because the value of the device was not immediately clear for them.
"The Apple Watch, in its current manifestation and because the concept is so new, took time to truly understand its value," he says. "It certainly takes more than two weeks to realise how it fits into your life. But in the future, this will not be the case. This is simply due to the immaturity of the market and the product."
Perhaps more interesting, then, are the consumers who used the Apple Watch for more than two weeks – consumers who, in other words, had enough time to really get to grips with the device – and still found it to be of little value.
The top five reasons for giving up on the Apple Watch among this group were: I didn't find enough value in it; I thought it was too limited; I thought it was too slow; the battery didn't last long enough; and the tilt to check the time ended up too annoying.
To follow up on this, Creative Strategies asked respondents for their overall thoughts on the Apple Watch. Bajarin says a number of important critiques came out.
"The biggest theme in the critiques was about performance," he says. "Many thought the Apple Watch was too slow, particularly around data retrieval and third party apps.
"The other was about battery. Many commented on their desire to have the watch face be visible at all times and not have to charge daily. Another interesting thread in the comments was the high number of people who said they would have liked it more if it was more independent from the iPhone…
"Another common thread I saw from this group was the price. Many who commented suggested the price was too high and we know from this panel 65% of those who responded bought a Sport. This indicates that even $349 felt too expensive for the value for this group."
Bajarin says these criticisms should not be overplayed, as there tends to be a "heavy negative bias from those who work in the tech industry" against the Apple Watch and this accounted for 45% of respondents in its panel.
What's more, many of these criticisms are typical of a device like the Apple Watch that is a version one product in an immature market.
Nevertheless, Bajarin believes there are four key pieces of advice for Apple to come out of his research.
"Smartwatches and the Apple Watch have more potential to go mainstream if they: have better speed and performance in general and with third party applications; Increase battery life, including an always on display; become even more independent from the smartphone; [and] lower the price," he says.
So will it be a very Apple Watch Christmas this year? Bajarin is not sure. "I remain convinced there is something here with this category," he concludes. "However, we have to remember it is young and the Apple Watch nor the smartwatch category is anywhere near mature.
"This product also may not be for every adult on the planet like the smartphone is. There is nothing wrong with that. I do feel this is a big market but my conviction is it won't hit its stride until mid-late 2017."