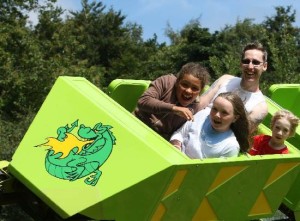 Want to enjoy some serious roller-coaster action without worrying about your environmental footprint?  Then North Wales has just the place for you: GreenWood Forest Park.
Located in Snowdonia, the park generates its own energy through solar panels, with Mashable reporting that its 576 panels can generate around 135 kilowatts at peak – around double the amount of electricity the park actually uses.
Not only that, but GreenWood's used cooking oil is processed into biodiesel, while it harvests 130 cubic metres of rainwater each year for flushing toilets.
And while GreenWood's Green Dragon roller coaster might not be quite up to the chilling standards of Alton Towers' Oblivion, it is powered in a far more interesting, environmentally friendly way, using parallel railtracks with two sets of cars connected by a cable, with passengers' weight as they board one carriage hauling the other up to the top of the run.