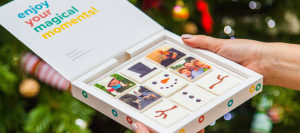 How much could a bunch of Instagram pics printed on marshmallows be worth? Well, how about £10m?
For such is the value of "multi-sensory marshmallow" producer Boomf – which does just that – after attracting £700k in its latest investment round.
TechCity News reports that the British company has sold more than 1.4m marshmallows since launching in November 2013, with revenues of £2.4m a year.
Even better, it recently launched its second product: Buntella, personalised bunting for every occasion. "Made with 100% cotton in England, you have 9 high quality bunts to personalise with your own images and create something beautiful to hang proudly," the company claims of its new product.
Well that's Christmas sorted.